Our Company
Barrie Dean Financial Management takes a very holistic approach to financial planning that embraces all elements of wealth management, from pension plans to ISA's, investments to tax-efficient asset management, life protection and more. Instead of simply trying to sell a product out of a box (like some financial planners), we work hard to understand what areas our clients need support in, and provide tailored solutions to help them achieve their goals.
We also don't do jargon. We appreciate that you come to us because we are the experts, and it's our job to make sure you understand all of your options. We talk in plain English, listen to what you need and then put together a tailored, step by step financial plan that's easy to understand and even easier to implement, with clear action points and constant guidance and advice if needed. We can even keep you up to date on the newest legislation and give advice based on current events, so you need never worry about having an outdated plan. Our personal approach and over 38 years of experience means you always feel like you and your financial future are in a safe pair of hands.
Meet our Financial Advisor
Barrie Dean
Find out about our professional and experienced director - who they are, how they can help you and how you can contact them.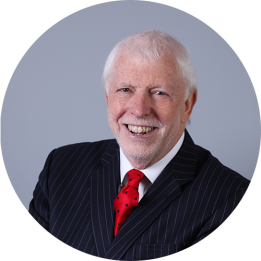 Barrie Dean
Independent Financial Advisor
Barrie Dean Financial Management was founded by Barrie Dean in 2005. Strangely, he never thought he would be a financial advisor in his youth. His first dream was to work in hotel management – but an incident with a chef made his decision for him - he handed in his resignation on the spot and started looking for a new dream to follow, and that dream ended in financial planning. 
He spent 13 years working in insurance, first as a trainee calculating insurance premiums and annuity rates, and then moving into training to review and underwrite applications before becoming what is now known as a business development manager. He then decided he wanted to make the switch to helping people avoid the disasters, rather than picking up the pieces. 
So, he set up as an IFA in 1983, and since then he's been providing independent financial advice to a wide range of people and businesses.
He was even the chairman of the Surrey Region of the Life Insurance Association in 1987 and 1988, organising and running meetings and sourcing national industry leaders as speakers. 
With a team of specialists and years of experience behind him. Barrie has helped hundreds of people effectively plan their dream retirement and protect their family's futures. In his spare time, Barrie plays in a local band and enjoys spending time with his family.
your next product
Ask us about the best savings and investment choices available to you
Don't miss this opportunity!
Barrie Dean trading as Barrie Dean Financial Management is an appointed representative of In Partnership the trading name of The On-Line Partnership Limited which is authorised and regulated by the Financial Conduct Authority.
The advice and / or guidance contained within this site is subject to the UK regulatory regime and is therefore targeted at consumers based in the UK.
In Partnership is entered on the Financial Services Register (www.fca.org.uk/register) under reference 192638.
The Financial Conduct Authority does not regulate all forms of the products or services we provide.